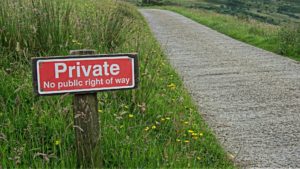 Plots of land come in all shapes and sizes and with a variety of intended uses. Care needs to be taken that the legal liability of the landowner is protected correctly in case they are drawn into any claims involving a land user or visitors.
Some points to consider:
Size
The size of the piece of land you want to insure and if it has any significant features will also influence the premium
Access rights
The more people who can access your land, the higher your premium is likely to be. You'll need to tell your insurer if there are any public rights of access on the land as that can increase the risk. And if you employ people to work on the land you'll need to have employer's liability insurance by law.
Buildings
The presence of structures, including derelict buildings, or waterways, which can increase the level of any potential claim. For example, a member of the public can cause themselves a greater injury if a roofing slate falls on their head compared to if your land is just open pasture.
Special materials or listed status of structures
If you are insuring listed buildings, such as a barn, as part of your land insurance this can increase your premium. That's because the cost of repairing or rebuilding it is likely to be higher than a standard construction barn.
It is best to speak to an insurance professional who is employed to work on your behalf rather than leave it to chance whether or not you have the correct level of cover you need for your requirements.
Please contact Tracey or Lorna on 01934 522252 if you would like to discuss further.